Nibbler is a simple yet powerful app which allows you to ease installation of things like maps and replays. While even this task isn't that difficult, it's repetitive, and unnecessary. We take the grunt work out of playing your game.
Installation
Installing the client is simple, just grab the Nibbler client and run the setup. We've tested it across both 32-bit and 64-bit installations of Windows XP and 7 (which means Vista should work as well). One you've installed it you're all set. If you run the app by default it will allow you to modify your settings (though you probably won't need to). Otherwise, it will just sit idly in its application directory until you click a Nibbler-enabled link.
On Nibbits
You will find Nibbler links in two primary locations on Nibbits. The first, is on the individual map or replays page, right below the Download button.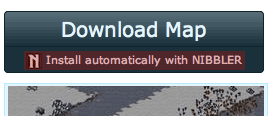 The second location which you will see Nibbler-enabled links are on browse panes, or most anywhere where a map is shown.

Both links function exactly the same, and again, will only work if you have Nibbler installed.
Adding support to your website
The best thing about Nibbler is it's extremely easy to add support to your website for it. Because of how simple the app is, it's as easy as adding an alternative download link:
nibbler://example.com/my-map.scx
Download Now
Nibbler Client 0.1.2 Beta
Filetypes Supported
Out of the box, we support all maps and replays other than the new StarCraft 2 maps (simply because they're not really possible to support yet).
StarCraft 2:

SC2Replay, SC2Map, S2MA

StarCraft:

SCX, SCM, and REP

WarCraft 3:

W3M, W3X, and W3G
Supported Websites
The following websites currently support the Nibbler protocol:
---
Support Nibbits by linking to us: